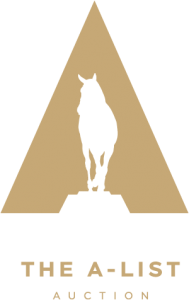 Taking place live at the Dodson & Horrell Bolesworth International Horse Show on Friday 9th July, the A-List auction is an exclusive selection of hand-picked showjumpers destined for the top.
A new concept for the UK, the auction highlight will be an elite collection of 4-7 year olds who have been carefully selected and tried by our team, alongside a selection of elite yearlings.
The A-list auction feels like a natural progression for Bolesworth Elite Auctions, having established successful foal and yearling auctions for the last six years.
With Peter Scholefield and the team from Hird & Partners on board, we have been meticulous in the vetting procedure with full sets of x-rays available for each horse with a commentary from Peter himself, and videos of the key parts of each vetting that will be available to download in the 7 days leading up to the auction.
Prospective buyers are welcome to apply to view and try the ridden horses the by applying to do so online here.  A limited number of trials will also be available at the Dodson & Horrell Bolesworth International Horse Show.
Yearlings will be available to view at the show on Thursday 8th July and Friday 9th July, with an official preview at 4pm on Friday 9th July in the International Arena.